Team Empire Bring it Home for EMEA at the Grand Finals
What sets in the West rises in the East. Lifted high through their Regional Finals, the Americas and EMEA were represented in Kuala Lumpur with OpTic Gaming going up against fellow Western team, Team Empire.
Many predicted that this LAN debut for OpTic's new roster would be a stomp – An easy 3-0 victory for the Americas team. Others saw potential in Team Empire, knowing their late game play was as fierce as OpTic's was well-known.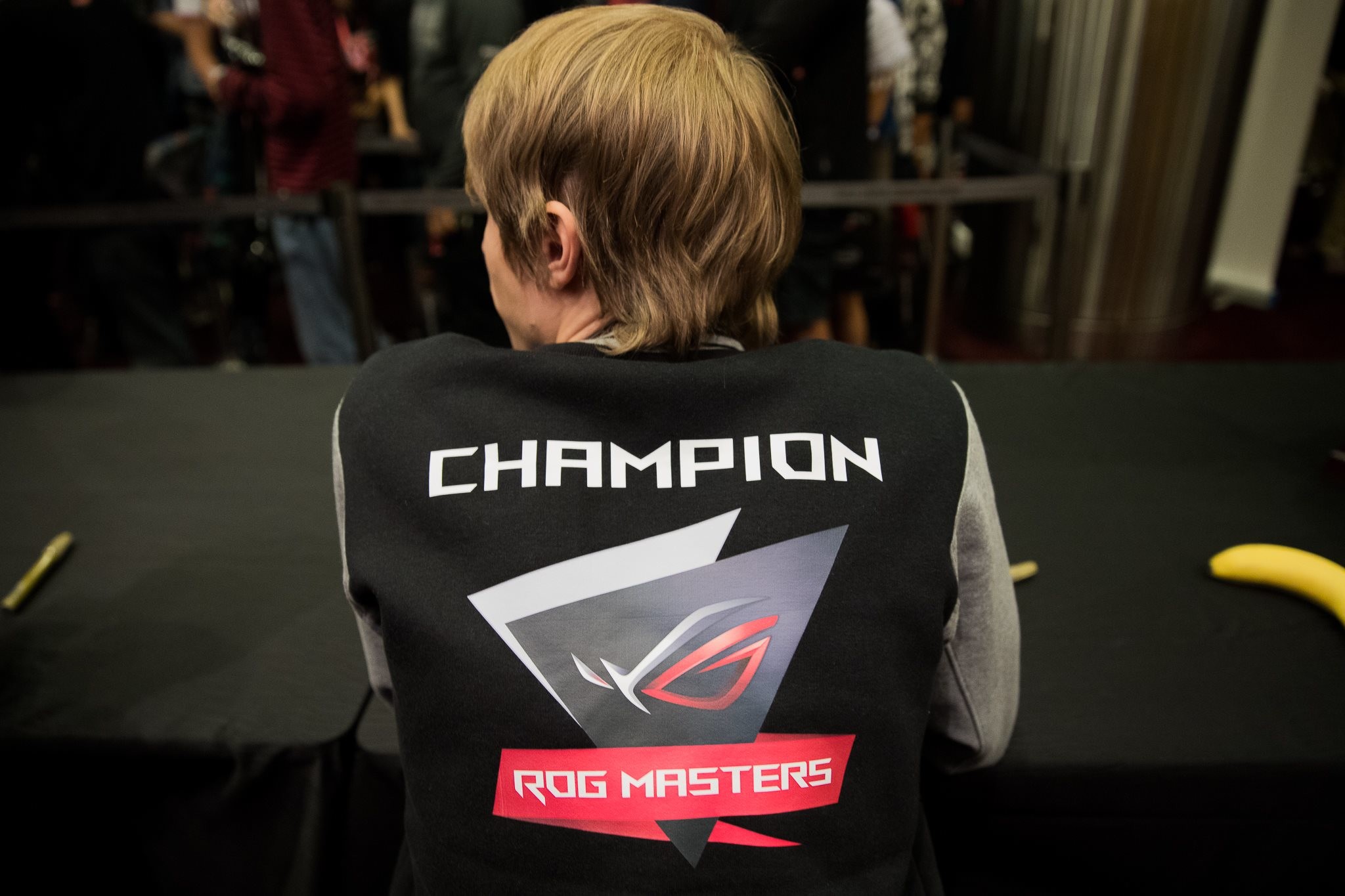 The Rising Storm
In Game 1 of the epic series, Empire's goal was clear: apply early aggression to cut off OpTic's mid game. OpTic's strategy, on the other hand, was heavily reliant on using their disables for pick-offs and disengaging with a strong late-game siege composition. Naga Siren proved to be their disable of choice and Saksa had the weight of the game on his shoulders as his positioning dictated the flow of the game. This was first put on display at the 24-minute mark, when Saksa was too far back from OpTic's carry, Pajkatt's Juggernaught, to save him from Batrider's Blink Dagger into Flaming Lasso. To make the game even harder, the play we saw from Empire fn's Storm Spirit yesterday was nothing compared to the devastating monsoon he became today.
OpTic showed a lot of respect for Empire this game, wary of Storm Spirit, and backed away from several Barracks opportunities despite having the theoretically stronger team fight. Unfortunately, one team fight at 45 minutes swung the momentum of the game away from OpTic and into Empire's pocket after wiping Juggernaught and Naga Siren from the map. One final push at the 65-minute mark allowed Empire the breathing room they needed to push through the mid lane of OpTic's base, winning them Game 1.
OpTic Finds Their Fangs
Medusa was OpTic's mid laner of choice during Game 2, while Empire picked up Puck and Sven to help carry them to victory. Empire stayed ahead in economy and kills, but OpTic won the tower war. Though outplayed in the laning stage, OpTic made all the right decisions heading into mid-game. At 25 minutes in, Empire made a crucial mistake: attempting to invade OpTic's jungle with a well-executed Puck and Sand King combo, the stun train from OpTic turned the fight around and they mowed Empire down. Empire continued to react slowly through the rest of the game, allowing Medusa to take full control until finally, at 36 minutes, OpTic sieged their base and forced out GGs.
The third game was a clinic in how to play Shadow Shaman by Saksa. The clear MVP of the match, his flanks and high ground positioning around Roshan secured them team fight after team fight, and himself a kill or two. Zai also put on an incredible showing on Clockwerk – Though his early game was lacking, by mid game he was hitting hookshots from maximum range and using the pushback on his cogs to his team's advantage across the map, netting them several pick-offs. The final nail in the coffin of this game was a combined effort of OpTic's two power players, with Saksa forcing Empire to commit to a 26-minute Roshan fight and Zai continuing to pick off his opponents up to the 38-minute mark. OpTic then earned themselves a full team wipe and cemented themselves the win for Game 3.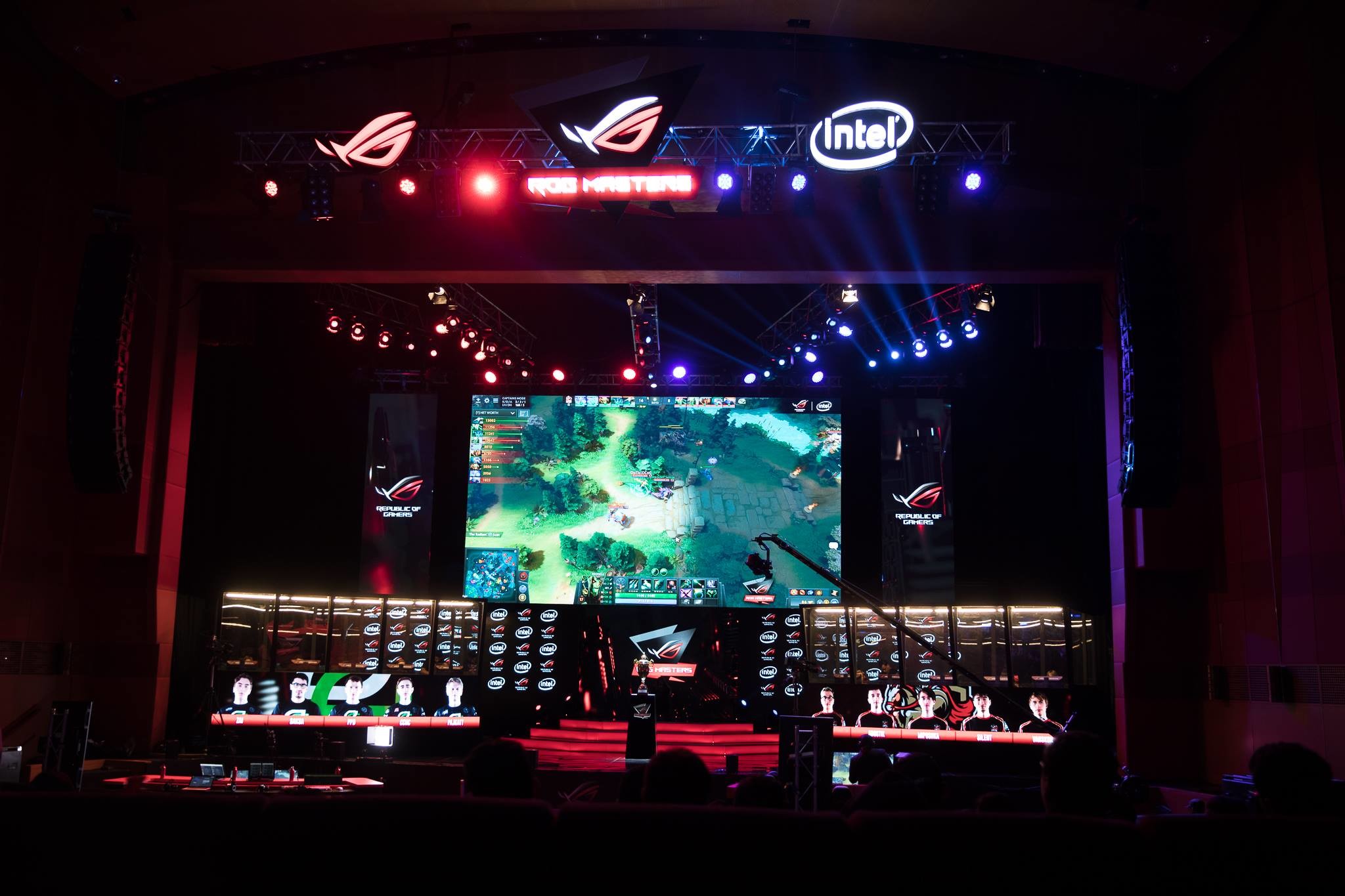 Spirits Rise
Earth Spirit and Lone Druid were two of the star picks in Game 4. Early on, OpTic was punished brutally bottom lane. VANSKOR on Earth Spirit helped his bottom lane to earn three early kills through chaining stuns. Empire continued to decimate early- and mid-game but, as late game approached, Pajkatt's Lone Druid began to shine for OpTic. At 35 minutes, a messy team fight broke out and OpTic managed to distract Empire while Lone Druid's Spirit Bear pushed bottom and got their Tier 3 tower.
The Spirit Bear continued to be a thorn in Empire's side throughout the game, made even more difficult to handle by Saksa's Keeper of the Light wave clearing while the split push occurred. Unfortunately, a die-back on CCnC after Pajkatt was caught meant that Empire was able to rush down top lane and OpTic tapped out. Game 4 went to Empire, and the series was tied 2-2.
The Comeback Kids
OpTic had to win laning stage in Game 5, in large part due to the threat of Batrider's Lasso and Medusa's damage potential. The game became a back-and-forth mid lane battle in its early stages, with the goal for both teams being to bolster their mid laners: Lina for OpTic and Medusa for Empire. Nobody was able to assert their dominance, however, trading kills to no avail. OpTic needed to play fast and furious, yet they were unable to earn the kills nor did they lead economy strongly in the early game.
Empire should have hit their power spike at 20; instead, OpTic continued to stack Bloodstone charges on Lina and earned pick after pick. At 28 minutes, Empire attempted a smoke pick onto Lifestealer in the Radiant jungle, but overcommitted in desperation and lost the team fight handily. Despite this, Empire kept fighting and it paid off in spades. Twenty minutes later, OpTic engaged without Lina present and, despite a strong engagement, fell victim to Medusa's curse. With a Black King Bar and Skadi's, Empire's fn was just too tanky for OpTic to take down before falling victim to their opponents. A full team wipe later, Empire began catching up in economy and turned the tide of the game.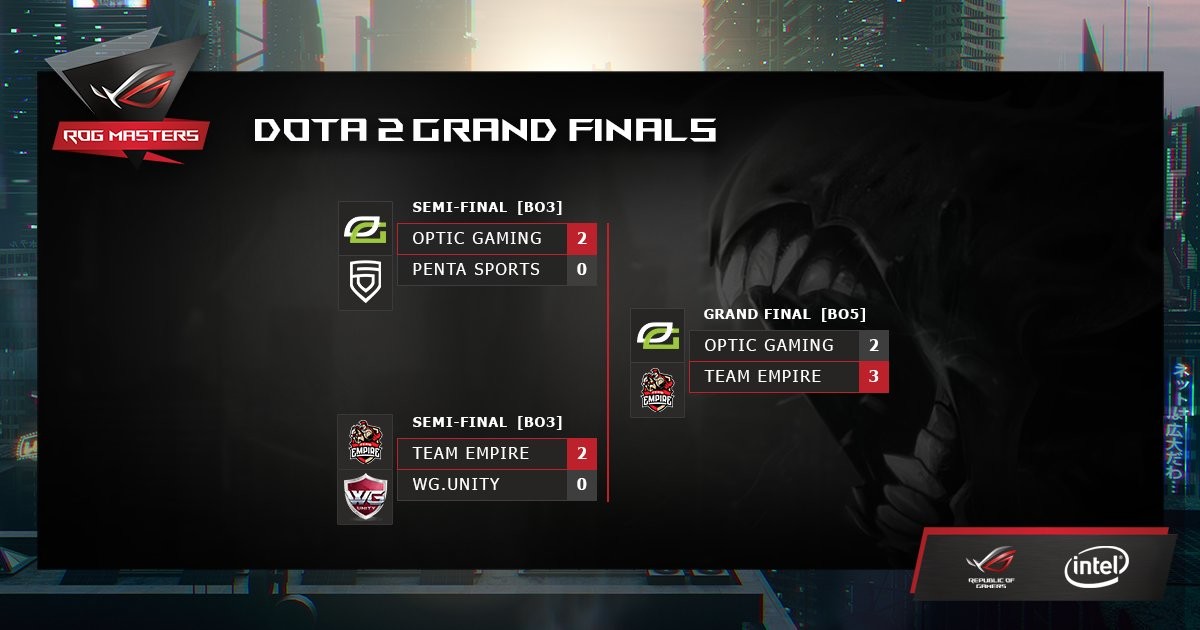 At the 65-minute mark, one final team fight ensued. CCnC's Lina was target fired and after a buyback, was the unfortunate victim to Batrider's last Lasso of the series. After an incredible extended team fight over mid lane's Barracks, CCnC fell for the second time and without buybacks remaining, OpTic called GG.
Taking on the undefeated domination of OpTic, Team Empire stood strong and never backed down, nor did they call GG early. They fought tooth and nail and earned their place in the spotlight as the ROG MASTERS 2017 champions!
If you would like to get more additional information regarding ROG events and ROG products, sign up to an ASUS Member Account & Join the Republic!