Clean Sweeps Across the Stage for OpTic Gaming and Team Empire
Dota 2 fans had plenty to cheer about during today's two series. Best-of-threes, each team had battled through three others to get to where they stood. The games were intense, the matches close, but only two teams could come out on top of the Semifinals: OpTic Gaming and Team Empire are moving on to the Finals!
Team Empire vs WarriorsGaming.Unity
In Game 1, WG.Unity's AfrOmoush found himself on his team's comfort pick, Spirit Breaker. After a clever counter-draft by Team Empire, banning Sven and picking Mirana to force WG.Unity on to Morphling, the game began. The first kill of the game happened very early on, just past the one-minute mark, in favor of WG.Unity. The rest of the early game was an intense back-and-forth, where both teams focused on trying to get their Carry Heroes net worth up. While both succeeded, two courier kills by Empire netted them a lead and lost WG.Unity a Blink Dagger. Despite the shifting kill count, the advantage steadily swung the way of Empire and they took Game 1.
It was a bit disheartening to see AphrOmoush once again on Spirit Breaker this game, but WG.Unity seemed intent on picking a comfort draft and that's exactly what they got. Meanwhile, Empire stretched their Hero pool further by snatching up Shadow Demon and Wraith King to surprising effect. They were able to successfully navigate the early game and get their Carry Heroes fed, at which point it was game over before GG could be called
The culling began and, with every swing of Wraith King's blade, the damage from Radiance and pure level advantages compounded to create a death-defying machine. Shadow Demon's burst paired with WK tore the enemy down at every advance and, in a shorter game than the first, Empire took the series 2-0.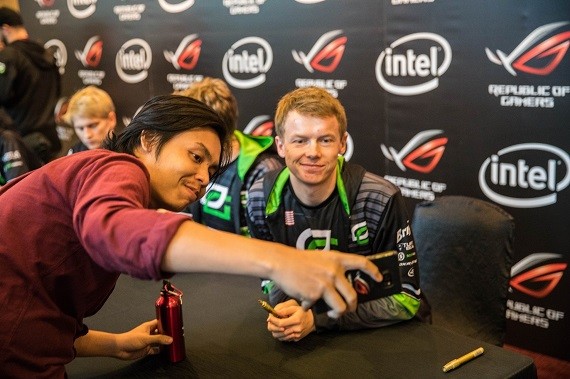 OpTic Gaming vs PENTA Sports
The clear favorites going into this match-up were OpTic Gaming. Hailing from America, the TI7 star-studded roster hadn't dropped a single game heading into the Grand Finals and continued their winning streak through the Group Stage. PENTA overcame a mammoth of a challenge facing off against Group B's Execration on Day 2 of the Grand Finals to qualify, coming from the bottom of their group to win 2-1 versus the former TI7 squad.
Going head-to-head, it was clear what PENTA's strategy was from the start: divide and conquer. Drafting Medusa, Doom and Undying, their split pushing potential was high and their late game looked scary. OpTic wasn't going to have any of that, however, as they sniped Ogre Magi early in the draft and prioritized their Carries after picking up a solid front line in Brewmaster. Between Sniper and Phantom Lancer, the damage dished out was more than their opponents could take. Throw in Bounty Hunter and the harassment potential of their line-up didn't give PENTA the room they needed to let their composition bloom. In just 31 minutes, OpTic twisted PENTA's arm into calling GG.
Game 2 was a stark contrast to Game 1 for OpTic. Picking the recently unseen Elder Titan on top of ppd's trademark Bane, it was bound to be an interesting game. Nobody realized how interesting it would be, however, until PENTA stepped it up. Witch Doctor was their go-to Support once again, and with the damage of Pugna and Storm Spirit they dominated the early game. By mid-game, Oliver's Lycan had all the strength he needed to survive what OpTic had to throw at his team, and take a Barracks or two down while doing so.
Oliver was by far PENTA's MVP this game, making executive decisions to assassinate his opponents before using his Ultimate to get away. Despite the setbacks, OpTic's Morphling paired with Dragon Knight was too much for PENTA to handle post-30 minutes and OpTic clawed their way back into the game and, ultimately, to their clean sweep win.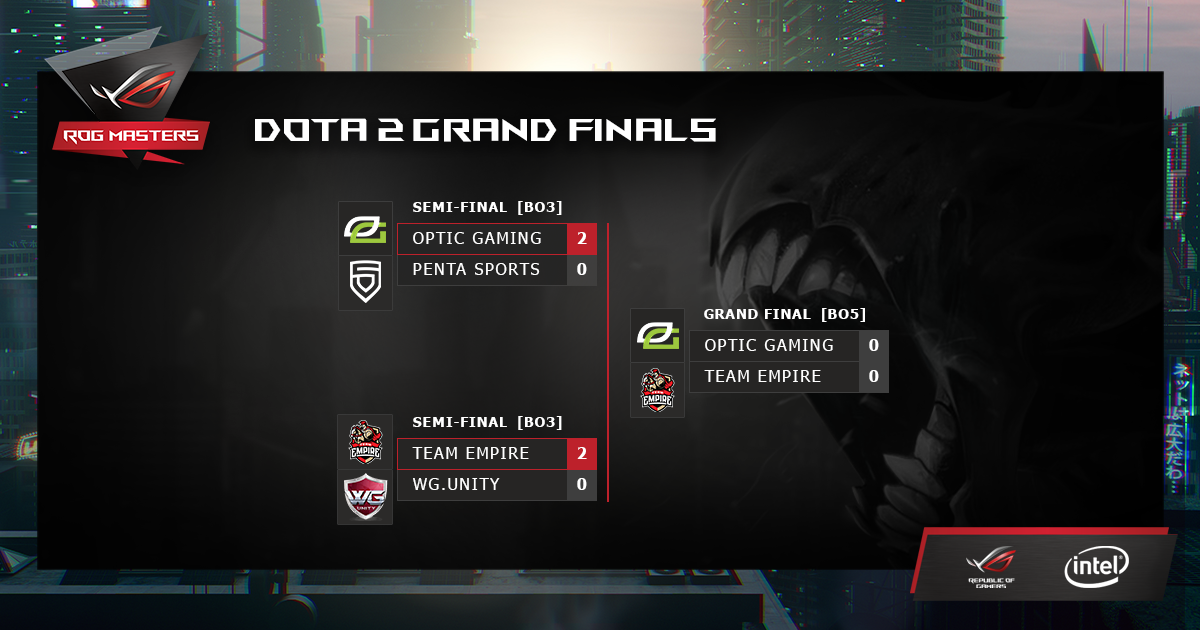 The Finals Await
Now, the West will have a chance to showcase what they've learned through global play when the Americas face off against EMEA in the Finals!
Witness OpTic Gaming take on Team Empire at the Grand Finals of ROG MASTERS 2017 live at the KLCC, or on the following streams:
English:
twitch.tv/asusrog
German:
twitch.tv/99damage
Spanish:
twitch.tv/cybersportstudio
Filipino:
twitch.tv/womboxcombo
Russian 1:
twitch.tv/uccstudio
Russian 2:
twitch.tv/uccleague4
Russian 3:
twitch.tv/uccleague5
Russian 4:
twitch.tv/starladder1
Polish:
www.rog-masters.pl
Chinese:
douyu.com/3811559
If you would like to get more additional information regarding ROG events and ROG products, sign up to an ASUS Member Account & Join the Republic!