A Series of Unbelievable Events Leave TyLoo and Gambit on Top
Overpass was the starting map of choice for both Grayhound Gaming versus TyLoo and Vega Squadron versus Gambit in the Semifinals. Both matches started out strong, and both came to thunderous conclusions. Now, only two teams remain to fight for the ROG MASTERS 2017 title!
Grayhound Gaming vs TyLoo
This series was expected to be a close one, but nobody was sure how tight this series would become. Map 1 was Overpass, and TyLoo began to flaunt the aggressive style of play they've spent time at their European boot camp fostering. Unfortunately for TyLoo, the momentum built up by Grayhound in the Group Stage carried through to their series today. In Round 5, Grayhound was able to take the round from TyLoo using only pistols and with no armor in sight. Dexter and Gratisfaction excelled for the team, both getting double and triple kills in several rounds throughout Overpass. Leading at halftime, they continued the trend and despite BnTeT's attempts to step up to the plate, TyLoo lost the map 16-14.
On Cobblestone, both teams looked worse for wear but managed to weather the storm. Both teams had moments of glory, however, proving why they deserve to be the top of their regions. This map was much closer, with bondik earning 32 kills heading into Round 30. With his team behind him, bondik's and BnTeT's strong performances carried TyLoo to a 16-14 win.
With their slot in the Finals on the line, both teams turned up the heat on Inferno. The first half of the game saw Grayhound playing incredibly strongly, punishing TyLoo's mispositioning hard on CT-side with BURNRUOk putting on a particularly impressive performance. Round 18 came along, though, and bondik cranked it up to 11 with a team ace. As the map progressed more and more players shined on the side of TyLoo, eventually concluding the round and the series 16-11 with team captain Mo poetically sealing the last round for the team.
Vega Squadron vs Gambit
The end-of-day CS:GO matchup was a regional battle. Both Vega and Gambit hail from EMEA and this was Gambit's shot to take revenge on their Regional Final's opposing bracket. Again, the teams headed to Overpass. jR and chopper cleaned up rounds beautifully, earning Vega an 8-7 lead heading into halftime, but Gambit had a pristine Round 16 pistol run. Somehow, despite the loss and the CT-favored nature of the map, Vega held on and took Gambit down in an anti-eco round, allowing them to wrestle control of the game on T-side. Maintaining their momentum, they swept the rest of the map 16-10.
Mirage, the second map of the series, started off disastrously for Gambit. Down 9-2, it took big plays by Hobbit to come back from the deficit. Then, they just kept climbing. An unstoppable force, by Round 21 the map score was 10-10. Vega managed to pull back ahead in the next round, but it would be short-lived. Charging forward to Map 3 after a 16-12 win, TyLoo was out for blood and it was blood they would have. Cache was the final map and Vega learned quickly how wrong they were to leave it open in the map pool.
The aggressiveness of TyLoo's play, capitalized by bondik, put on a clinic for the crowd to watch in awe. fitch managed to find himself three crisp, clean kills after Vega lost track of him on A-site during Round 6. Round 9 saw Vega on the scoreboard for the first time all map when hutji earned a triple kill, but that was the only round they would earn. With an incredible 15 game lead, Gambit took the series in the second 2-1 of the day.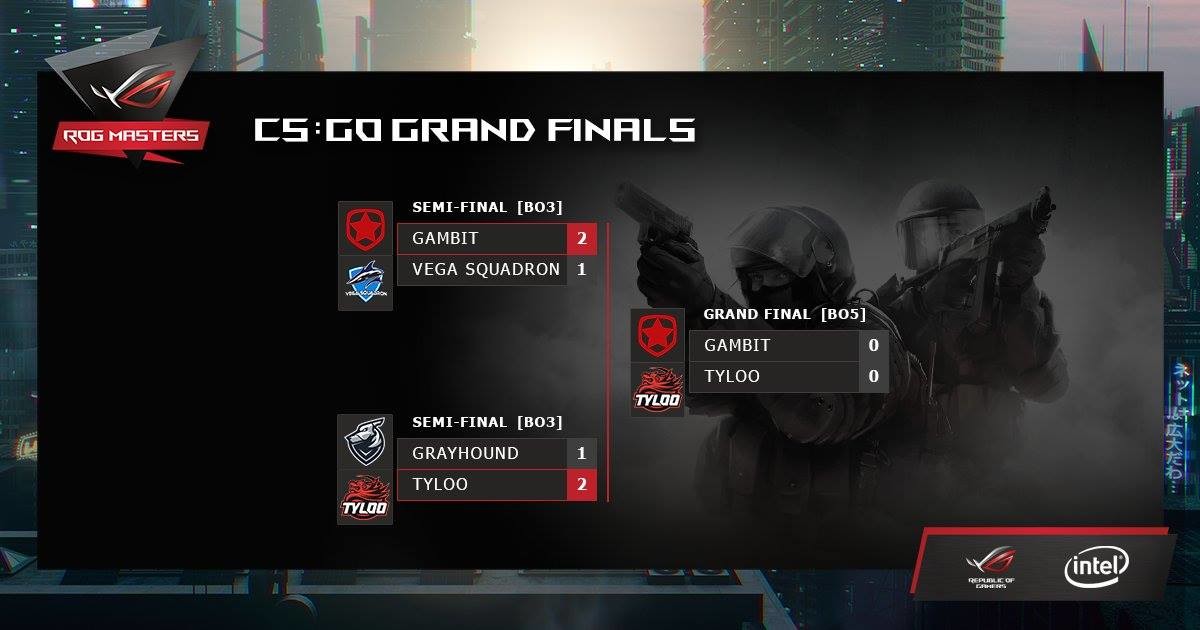 The Finals Await
The East will meet the West in the Finals tomorrow as China faces off against EMEA. Only one team will come out on top, but both will represent their regions with pride until the end!
Witness Gambit take on TyLoo in the Finals of ROG MASTERS 2017 live at the KLCC, or on the following streams:
English:
twitch.tv/asusrog
German:
twitch.tv/99damage
Spanish:
twitch.tv/cybersportstudio
Filipino:
twitch.tv/womboxcombo
Russian 1:
twitch.tv/uccstudio
Russian 2:
twitch.tv/uccleague4
Russian 3:
twitch.tv/uccleague5
Polish:
www.rog-masters.pl
Chinese:
douyu.com/3811559
If you would like to get more additional information regarding ROG events and ROG products, sign up to an ASUS Member Account & Join the Republic!