Top-Notch Rifling Lifts Vega and TyLoo High
In two wildly close sets, the third and fourth teams were determined by a best-of-three single-elimination round. When the dust settled on Day 2, two teams came out victorious: Vega Squadron and TyLoo!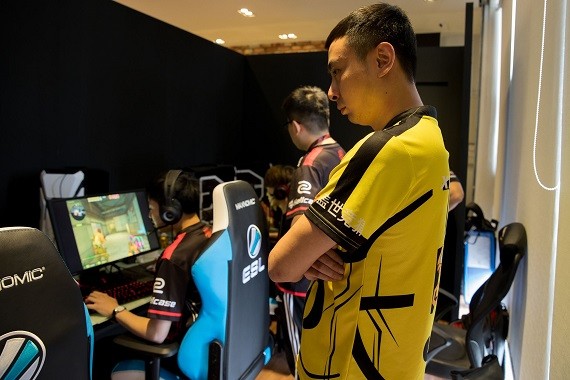 Vega Squadron Strongarm 5Power
The first match of the day was 5Power Club up against Vega Squadron. During yesterday's matches, Vega showed individual skill but could not quite work as a fully cohesive unit, landing them in second place of Group B. 5Power had a rougher time of things, facing off against Splyce and Gambit, and while they put up a fight it was clear they were somewhat outclassed in Group A, placing third. Today, though, both teams showed off a new face.
5Power struggled through this match-up, though they had shining stars. dobu in particular did an incredible job, supporting his team through the rough patches and earning double and even triple kills on every map played. Similarly, chopper stepped up to support Vega. With multiple kills per round and an incredible B-site fake out on Cache, he was the team's MVP in the final set to determine which team would head to the Playoffs. On Map 1, Overpass, a dominant CT-side for Vega gave them the leg up necessary to take the win. Cache was the second map pick and it was much closer.
Looking like it would be 5Power's game after a 10-5 round on T-side, Vega found it in them to have an equally strong T showing. With chopper and jR at the helm, Vega clawed their way back into the Map and ultimately brought it to match point, earning a 16-14 victory on Cache and a 2-0 win overall.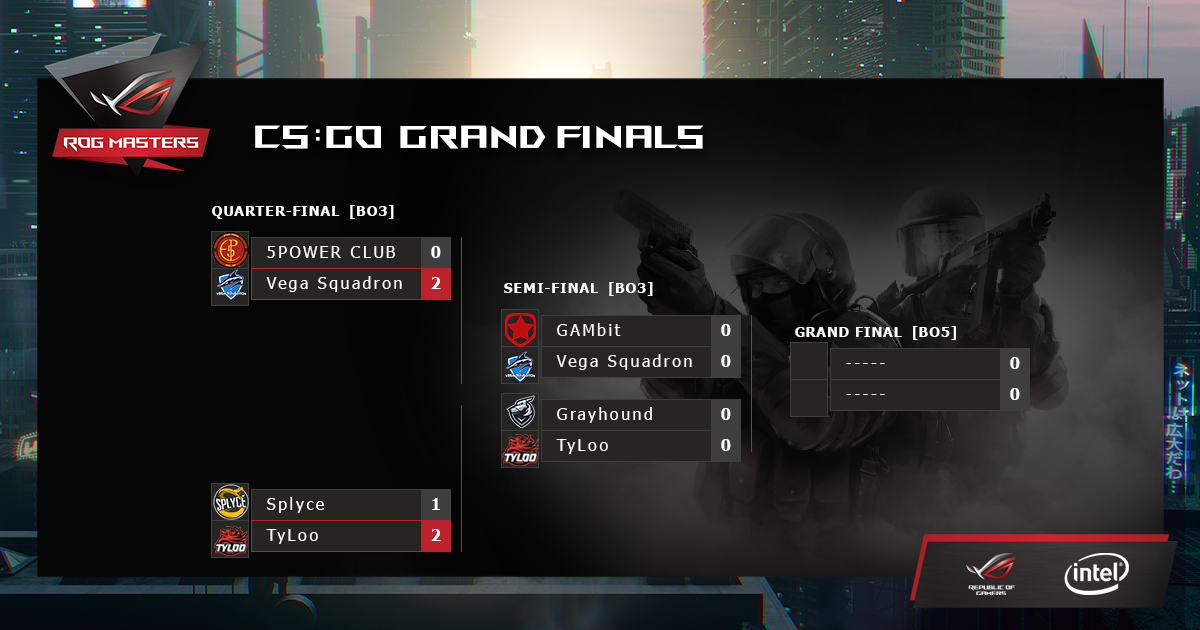 TyLoo Sweeps the Rug Out from Under Splyce
Though it was close on Train, the first map of the series between TyLoo and Splyce, it was ultimately Splyce and m1tch in particular who proved their capabilities on both CT- and T-side, earning a 16-13 victory. Similar to yesterday's matches, though, the loss lit a fire under TyLoo and they came back with a walloping AWP. Cobblestone proved their map on both sides, earning an 11-4 lead in the first half. With a final blow to Splyce on T-side, TyLoo ended the map 10rounds up.
Cache, the final map of the best-of-three, showed where the comfort zones and strengths of each team laid. For Splyce, that was in aggressive and sometimes seemingly chaotic play. For TyLoo, that was in thoughtful play and waiting games. Both halves of the map were near-even, with the teams heading in to halftime with 8-7 in favor of TyLoo. Though Splyce had some incredible comeback rounds, TyLoo kept the pressure on and the momentum going from their previous round's win and eeked out the victory in the end, securing them a place in the Playoffs.
bondik proved his usefulness to TyLoo as both a skilled player and European influence this set. While he was not the sole star of the game, this new addition to the primarily Chinese roster has clearly had a positive effect on the team. His typical playstyle is faster-paced and more aggressive than the standard Chinese strategies utilize and, while TyLoo still appeared to perform stronger in more methodical rounds, their play has definitively taken on a hint of the aggression expected from Western teams.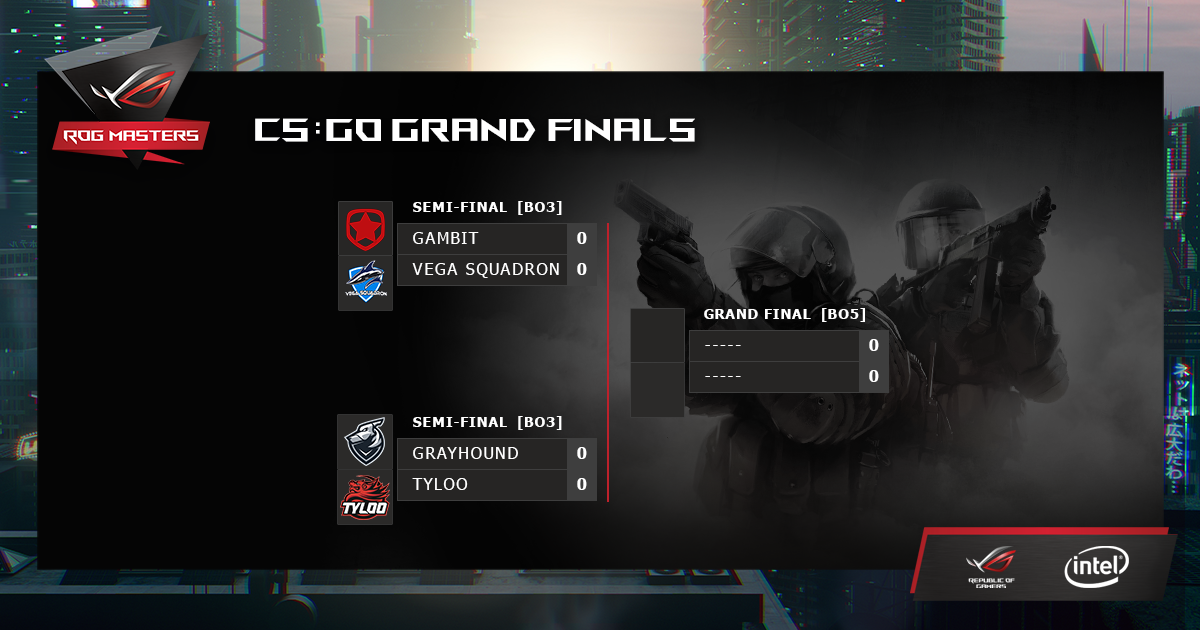 Destination: Semifinals
With their wins, both Vega and TyLoo move on to the Semifinals where they will face the top teams from Group A and B. Gambit awaits Vega in the EMEA face-off, while APAC team Grayhound Gaming is preparing their strategies for China's TyLoo.
Four teams, three regions, and a $235,000 prize pool.
Watch live at Plenary Hall, Kuala Lumpur Convention Centre or tune in to one of our dedicated streams to watch the action play out:
English:
twitch.tv/asusrog
German:
twitch.tv/99damage
Spanish:
twitch.tv/cybersportstudio
Filipino:
twitch.tv/womboxcombo
Russian 1:
twitch.tv/uccstudio
Russian 2:
twitch.tv/uccleague4
Russian 3:
twitch.tv/uccleague5
Polish:
www.rog-masters.pl
Chinese:
douyu.com/3811559
If you would like to get more additional information regarding ROG events and ROG products, sign up to an ASUS Member Account & Join the Republic!