Nail-biting Tiebreakers End in Victory for Gambit and Grayhound Gaming
Six teams from across the globe gathered for the Group Stage of the ROG MASTERS 2017 Grand Finals, but only two were able to overcome their opponents. Congratulations to Gambit and Grayhound Gaming for placing top in their groups and moving on to the Playoffs!
It was a hard-won fight for every team involved in CS:GO this Grand Finals. Featuring two Tiebreaker matches, the games were as intense to play as they were to watch. Gambit found themselves facing off against 5Power Club and Splyce in Group A, while Grayhound Gaming squared off against Vega Squadron and TyLoo in Group B.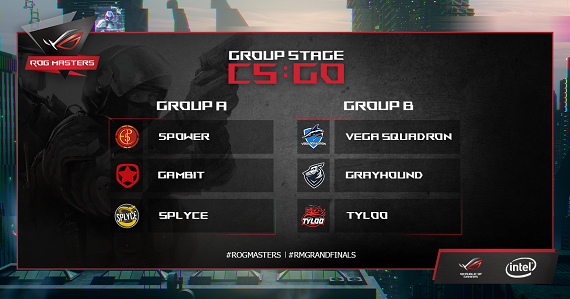 Group A
Gambit started out the day with a strong Map, earning a swift 16-2 win over 5Power. Unfortunately for the CS:GO juggernauts, chinks in their armor formed. Still, they managed to best 5Power 2-0 in the series. Following the back-and-forth performance was Splyce and 5Power, and Splyce showed much more discipline and decisiveness in their play than fans saw at the Regional Finals Americas. With two impressive victories, another 2-0 ensued.
Then, the match that boggled the minds of all viewers: Gambit versus Splyce. Two powerhouse teams, powder kegs ready to frag. The series started off with the closest game both Dota 2 and CS:GO saw during the Group Stages. After a nail-biting finish, Map 1 saw the teams tie before Splyce managed to pull ahead, not for lack of trying on the side of Gambit's fitch. With a 19-16 victory, Splyce pulled ahead in the series. That was the spark to ignite Gambit's fire, and the chinks in their armor became works of art. They banded together and showed the crisp, clean play fans have witnessed in the past. Taking two Maps back-to-back, Gambit snagged the series victory 2-1 and first place, leading them straight to the Playoffs. With this loss, Splyce seeded second leaving 5Power third.
Group B
Grayhound Gaming showed strength and dominance during their Regional Finals, but nobody quite knew how they would pair up against international competition. On the global stage, however, they have proven more than competent. Grayhound started their Group Stage run with a 2-0 victory against Vega Squadron and, while the first Map was closer than anticipated, it was a solid win. TyLoo then faced off against Vega and the results were surprising. It was a brawl for the ages, both teams playing aggressively and quicker than they have in the past.
Seemingly clear front-runners in the competition, a close 16-10 win for TyLoo was quickly followed by a decisive 16-5 loss to Vega, and the team felt that loss heavily. Their first game against Grayhound was close, but not nearly as close as the second Map, where the game went into overtime. With a heartbreaking 19-17 loss to Grayhound, TyLoo was knocked down to play for second seed while Grayhound advanced to the Playoffs. Morale was not their strong suit today, and TyLoo fell victim to a lack of team coordination against Vega in the Tiebreaker, leaving them last in their group.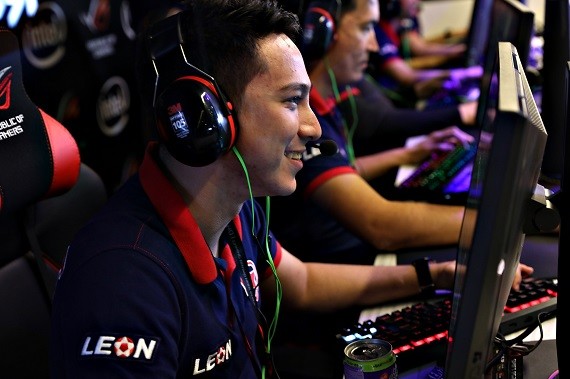 Moving Forward
Both Grayhound Gaming and Gambit will have the day off tomorrow while the final four CS:GO teams at the Grand Finals compete for their shot at the Playoffs. Facing a single-elimination best-of-three match, the second seed of Group A will face off against Group B's third seed, and vice versa.
Now, 5Power will go toe-to-toe with Vega Squadron to decide who will face Gambit on Saturday in the first Playoff match of the Grand Finals. After that, TyLoo and Splyce will AWP their hearts out to meet Grayhound Gaming in the next round.
Group Stage phase 2 action kicks off tomorrow, December 8, at 10:00 UTC +8.
Experience the upper echelons of global play on the following streams:
English:
twitch.tv/asusrog
German:
twitch.tv/99damage
Spanish:
twitch.tv/cybersportstudio
Filipino:
twitch.tv/womboxcombo
Russian 1:
twitch.tv/uccstudio
Russian 2:
twitch.tv/uccleague4
Russian 3:
twitch.tv/uccleague5
Polish:
www.rog-masters.pl
Chinese:
douyu.com/3811559
If you would like to get more additional information regarding ROG events and ROG products, sign up to an ASUS Member Account & Join the Republic!