OpTic Gaming and Team Empire Emerge from the Group Stages
The first day of the ROG MASTERS 2017 Grand Finals started with six teams competing for top spot in their groups, but only two could move on from the Group Stage gauntlet. Congratulations to OpTic Gaming and Team Empire, the victors of Group A and Group B!
Group A consisted of OpTic, WarriorsGaming.Unity and PENTA Sports, while Group B boasted Team Empire, Execration and Team MAX. Each faced off against their opponents in a best-of-two series, determined to gain top slot in order to move on to the Playoffs unscathed. For the remaining two teams, it became a cutthroat challenge to earn a higher seeding heading into the second phase of the Group Stage.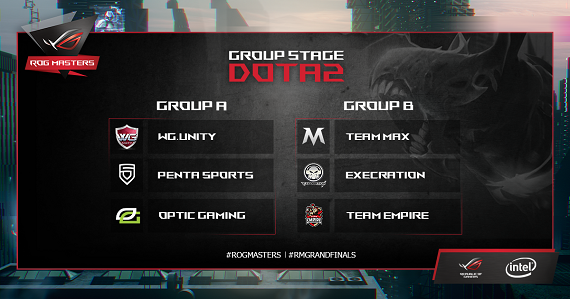 Group A
In Group A, it was a story of 2-0 victories across the board. WG.Unity took on PENTA Sports with finesse and a focus on counter-play. Picking currently-favored Omniknight into PENTA's Chaos Knight, they were able to successfully mitigate the threat of their opponent and take them down in both games. Unfortunately for WG.U, OpTic was able to do the same thing to them in the second round of games. Picking a bold 4-melee composition, OpTic dismantled WG.Unity with an Aegis pick-up at 16 minutes and GG just shy of 28 minutes in.
The last match-up of the day was PENTA's only chance to not place last, and OpTic's opportunity to cinch first place and their slot in the Playoffs. Due to the 2-0 victory in their previous game and, conversely, WG.U's 2-0 loss, OpTic only needed one win this series to place first yet both games would count for PENTA. Unfortunately, they did not account for OpTic's Pajkatt on Morphling who eventually one-shotted his competition by the end of their first match. That set the tone for the series and, with a second 2-0 loss, PENTA placed third in their group while OpTic moved on.
Group B
A bit more cut-and-dry, Group B started off with an immediate tie. Team MAX and Execration slammed into one another with determined resolve, and both earned one win and took their first steps toward first place. Waiting in the wings, however, was Team Empire and boy, did the Empire strike back. Round 2 and Round 3 left Team Empire looking in prime condition, barely touched by their opponents. With 2-0 victories in both series, they were guaranteed first and qualified for the Playoffs alongside OpTic.
That left quite the tricky situation: both Team MAX and Execration had one tie and one loss under their belt, so a Tiebreaker match was needed. As the teams in the second phase of the Group Stage would compete based on seeding, second- and third-place teams needed to be declared. Ultimately, it was Execration who was able to come back from their Game 2 loss against Team MAX earlier in the day to claim victory and second seed.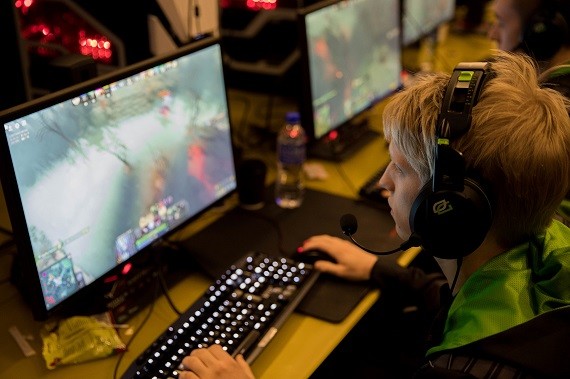 Moving Forward
Now, both top teams will have a day off while they await the Playoffs. For Execration, WG.Unity, PENTA Sports and Team MAX, the second phase of the Group Stage is looming. Facing a single-elimination best-of-three match, the second seed of Group A will face off against Group B's third seed, and vice versa.
Execration and PENTA Sports will start off the afternoon of Dota 2 action. The winner of this match will move on to Saturday's Playoff match against OpTic Gaming. On the other side of the bracket, WG.Unity will be competing with Team MAX for their shot at Team Empire in the Playoffs.
Group Stage phase 2 action kicks off tomorrow, December 8, at 13:15 UTC +8 after the morning's CS:GO tournament.
Experience the upper echelons of global play on the following streams:
English:
twitch.tv/asusrog
German:
twitch.tv/99damage
Spanish:
twitch.tv/cybersportstudio
Filipino:
twitch.tv/womboxcombo
Russian 1:
twitch.tv/uccstudio
Russian 2:
twitch.tv/uccleague4
Russian 3:
twitch.tv/uccleague5
Polish:
www.rog-masters.pl
Chinese:
douyu.com/3811559
If you would like to get more additional information regarding ROG events and ROG products, sign up to an ASUS Member Account & Join the Republic!