WG.Unity and Execration Next to Head to the Grand Finals
The Philippines rose up to embrace our APAC victors during the Regional Finals APAC this past October. Though strong Filipino teams fell, the hometown heroes of Execration stepped up to the challenge; however, above them rose an even tougher rival: WarriorsGaming.Unity.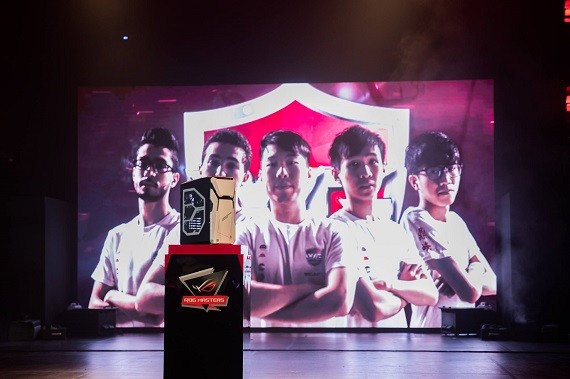 An international roster composed of players from Singapore, Australia, Malaysia and Jordan, WarriorsGaming.Unity are fresh-faced and poised to strike. The roster only formed in the post-TI7 roster shuffle, giving them a mere two months' practice before the Regional Finals APAC with their core squad.
A New Start for an Old Team
Consisting of Meracle, Feero and Velo, the core members of the team are each Carry players from unique regions with unique playstyles. Meracle is perhaps the most well-known player on the team. Hailing from Singapore, he has been playing professional Dota 2 since 2012, when he joined First Departure. His split pushing-style of play has risen eyebrows in the past but he stands by it, using it to help his team to victory in October's Finals.
The two newest additions to the team are xNova- and AfrOmoush, joining in late September and October respectively. The supports of the team, they had a mere month to adjust to their core team's playstyle before the grand event began. You wouldn't have known it from their play, though; twice, AfrOmoush locked in his beloved Spirit Breaker and lived up to his Hero's name in-game, earning top assists in both Finals matches, while xNova-'s Bane play earned him an incredible 26 assists with only one death to brush off for his efforts.
With one month of play, what they were able to accomplish with their 2-0 sweeps in the ROG MASTERS 2017 Regional Finals APAC is nothing to scoff at. Only exaggerated by their dominating performance against the TI7 participants Execration, it's impossible to know how well this team will fair with another month of practice under their belts- but we're about to find out!
With a legacy in the making, Execration has become a staple of the APAC, more specifically the Filipino, scene. With the ROG MASTERS 2017 Regional Finals APAC their first LAN event of the season, expectations were high for Execration to shine and they did- Though, not as brightly as the home crowd anticipated. Still, their second-place performance earned them a slot at the Grand Finals in Kuala Lumpur.
Led by captain Kimuel "Kim0" Rodis for the past three years, Execration put on a respectably strong performance at The International 2017, where the squad placed 13th-16th. Despite taking a break after The International 2014 Qualifiers, his return marked the turning point for the then-roster of Execration. Now, after their TI7 run, Kim0 is still supporting his team in a leadership role throughout the APAC region. Though Carry player Gabbi is relatively new to the team, joining midway through August, even he has felt the impact of Kim0's leadership.
When Life Meets Pro Gaming
Every player has had a moment in their career where they question whether they're following the right path. For Execration's Ryan "Raging Potato" Qui, his life as a husband and father now go hand-in-hand, but it hasn't always been easy. Balancing professional Dota 2 play while raising a son brings unique challenges most players have never faced, but Raging Potato's experiences have made him a better player. Despite being one of the youngest players on Execration's roster, his fatherly role transcends real life and enters the game where he has become an excellent Position 3 Offlaner.
With the Grand Finals mere days away, it will be more important than ever for the players of Execration to brush their shoulders off and get up from under the burden of the defeat they felt at the Regional Finals APAC. The global stage awaits them once more at the Grand Finals, and they'll need every ounce of the power they brought to TI7 to reach the level of play they'll need to win. But, with a bit of hard work and mettle, Execration could win it all.
If you would like to get more additional information regarding ROG events and ROG products, sign up to an ASUS Member Account & Join the Republic!